Services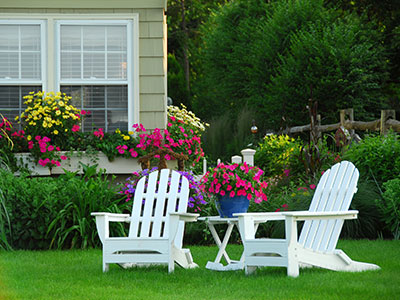 We at New Visions Lawn & Landscape, Inc. are a well-established and reputed company based in Panama City, FL, providing reliable and safe tree removal services to customers in Panama City, Panama City Beach, as well as Lynn Haven. Our expertise and excellence in the field has helped us gain a significant number of clients in Callaway, Port St. Joe, Santa Rosa Beach, and the surrounding areas. The variety of services we offer includes:


Landscape Design
Creating stunning and sustainable landscapes is about using the appropriate materials, and features', ensuring the design theme is carried through meticulously in various areas. It's also important to focus on aspects such as practicality and functionality. We provide custom landscape design services and follow a detailed and methodical approach in our work. We incorporate your ideas and vision and use our skill and expertise to create a beautiful landscape design. The designing team makes sure that all the finishes, materials, features elements come together seamlessly to create a whole that will look great and serve your requirements too. Read More About Landscape Design »


Lawn and Landscape Maintenance
Once you have a well-planned and well-designed landscape, you need to make sure that these open spaces and the features in at are maintained well. This helps keep the plantings and masonry elements in a good condition for a number of years. We use the best techniques, products, and technology in our lawn and landscape maintenance. We create custom plans that include everything from hardscape maintenance to aspects such as tree and plant trimming, lawn mowing, fertilization, pest control, de-weeding, spring cleanups and more. The objective is to ensure your landscape gets regular attention and care. Read More About Lawn and Landscape Maintenance »


Outdoor Lighting
When you get the outdoor living space on your property designed and installed, you want to make sure that they are durable, aesthetically appealing and functional. While all these beautiful outdoor areas are clearly visible and usable during the daytime, you need the right kind of lighting to ensure they are visible at night. Proper illumination improves the security and safety levels of your property, makes them usable after dark and increases the curb appeal and value of your property. It's vital to choose the right fixtures and fittings and hire professionals for the installations. We have vast expertise in this field and can provide custom outdoor lighting services, based on your budget and needs. Read More About Outdoor Lighting »


Landscape Installation
Our company handles new landscape installation projects and yard and garden upgrades too. The professional landscapers on our team work very closely with you to understand what your needs are and provide custom garden installation services that match your requirements. We can also add new features and make adjustments to your existing landscape. All the features in your landscaping will be low-maintenance and sustainable. The best plantings and masonry elements will be used in the project, ensuring that your landscape looks great and stays healthy too. Read More About Landscape Installation »


Drainage Solutions
If you have found water pooling on your property or anywhere near your home structure, it's very likely that the yard drainage system isn't functioning as it should. Poorly designed and installed drainages systems can impact the health and integrity of the planting and hardscaping on your property. We can fix existing drainage problems in your landscape and install new drains in strategic positions to efficiently channel water out of your property. Based on the layout of your property, the types of features there, we use a combination of various features area drains, French drains, drain tile systems, channel drains, dry wells, swale installation, and dry creek beds. Read More About Drainage Solutions »


Sprinklers & Irrigation
Designing an effective and highly functional garden irrigation system can be a challenging task and you need experts like us to handle the project. This involves much more than installing a few soaker hoses or sprinklers in your garden and yard areas. We have years of experience in this industry and focus on the irrigation aspect of the landscaping projects we take up. We can install automated/manual sprinklers, drip irrigation, and other systems. Products of the best brands will be used in the work and the installation will be carried out skillfully and efficiently. We also install timers and rain sensors as required, improving the convenience levels of the installations. Read More About Sprinklers & Irrigation »


Excavation
Most landscaping projects need some level of excavating services, but few companies offer it. If the outdoor areas on your property aren't graded right or are sloping, some excavation work would have to be done before any type of construction is done there. The different situations in which these services are required in a landscaping project are irrigation system installation, grading, retaining wall construction. We use the latest excavation equipment in our work and make sure that the work is completed safely and efficiently. All the debris, stones and soil will either be relocated or hauled away from your property once the work is completed. Read More About Excavation »


Fencing
Most property owners get some sort of fencing installations for their property. A fence enhances the security levels of your home. It helps deter trespassers and improves the appearance and value of your home. If you want sturdy & long-lasting installations, it's vital to get the work completed by experts in the field. We manage projects of every scale. Whether you want a new installation or need to replace an older one, we have the perfect solutions for you. We have very detailed discussions with our customers about what their needs, ideas & budget, and provide solutions that are in line with these. Read More About Fencing »


Stump Grinding
If you like a neat and tidy-looking garden a protruding tree stump will impact the appearance of the area. Tree stump grinding is the perfect way to get rid of the tree stump. Not only does it affect the appearance of your property, but is also a tripping hazard. A tree stump can become the perfect breeding ground for termites, wood borers, and other pests. Leaving the stump in the ground can result in new shoots to grow all around it, adding to your overall landscape maintenance costs. We provide customized stump grinding services and make sure the tree stump is leveled at least 6 inches below the ground level. The area will be cleared of all the wood chips once the work is complete. Read More About Stump Grinding »


Pavers
When it comes to planning & designing hardscapes, paver stones are a great option for various areas of your yard. Whether you're looking for natural stone, clay brick or concrete pavers, it's a good idea to hire expert paving contractors like us for the job. We have the knowledge and experience to help you determine which option will best suit your needs. Pavers are very strong and durable and easy to maintain too. They are versatile and can be used in various areas such as patios, pool decks, walkways, driveways, pathways etc. Read More About Pavers »


Retaining Walls
These specially engineered walls are a unique aspect of many landscapes. They could be made using various materials such as concrete blocks, natural stone, and brick. These walls are built to provide support to the soil and sloping land and are effective in preventing soil erosion, In addition to their functionality, these features can also be aesthetically appealing and we can design and build dual function walls. The structures will have planter spaces or in built seating in them. You can choose from materials like stacked bluestone and fieldstone, concrete blocks with stone veneer, interlocking blocks, treated timber. Read More About Retaining Walls »


Trees
We offer customized tree installation services for various palms and hardwood trees. Our team of certified arborists will assess the available space, understand your requirements, and make recommendations that suit your preferences and budget. We consider sunlight exposure, soil quality, and water availability before recommending the best tree species for your landscape.
Before installation, we prep the soil well, ensuring it is rich in nutrients and has the correct pH levels for the specific type of tree to be installed. This ensures the trees are healthy and have a strong root system, allowing them to thrive and grow into beautiful specimens. We pay attention to detail and provide excellent customer service, and working work closely with our clients to ensure that the tree installation process is hassle-free and seamless. With our care, you can be sure your trees will look great for many years, adding shade and beauty to your landscape. Read More About Trees »

We handle every job withskill and efficiency. For any more information aboutthe services that we at New Visions Lawn & Landscape, Inc. offer our clients, feel free to call us with your project details. We work methodically and provide customized solutions at reasonable costs. You can contact us with details of your project at this number-850-558-5590 or via this online form. We will revert quickly to discuss your project details.